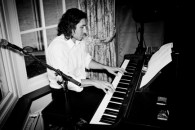 I started playing piano at the age of about 6 (back in 1975), and was classically trained up to grade 7. I stopped the formal lessons at the age of 16, but like driving it is only when you pass your test that you really start to learn and to gain valuable and essential experience, and it was from this age that I began applying all that I was taught.
Although I had learnt to read music and to play classical pieces in a formal structured way, I found I had the exciting ability to play 'by ear', copying a piece of music just by hearing it, so I began to develop the skills of improvisation and composition. In time I became very interested in jazz and jazz theory and did some personal study in this area, listening to a wide variety of jazz music and taking opportunities to play with other jazz musicians when possible.
With many years of experience now behind me, I have refined this ability to effectively copy and interpret most popular songs and pieces of music, reproducing them on the piano in a unique and original style. But besides performing other people's music, I also compose original music and have collaborated with numerous lyric writers to provide the music for their songs.
I believe I bring something very different which has to be heard to be appreciated (please visit the Listen page): an original and highly refreshing approach to background and cocktail-bar piano playing, where familiar tunes from well known songs, slow and fast, are interpreted and performed in a highly original way, taking the listener on a continuous, magical and unpredictable journey through many genres and eras, all seamlessly linked with on-the-fly improvisations and spontaneous compositions.
I have played in a variety of different environments, including: stage musicals, pubs, piano bars, hotels, restaurants, bands, and recording studios. For 7 years I have been the piano player and musical director of the band backing Hot Gospel, an amazing gospel choir based in Hull.
Over the years I have learnt to play in many styles, including classical, jazz, blues, ragtime and popular, and have built up a very large and constantly growing repertoire comprising hundreds of titles of many genres, and ranging from old to current. (The list of some of these titles can be downloaded by clicking here).
Please click on the headphone link to hear some recordings: