If you are looking for that extra 'something' for your wedding reception, restaurant, function or piano bar, there's nothing quite like the sound and atmosphere that only a background pianist can create. As a classically trained pianist, I have had considerable experience in this particular speciality having played piano for around 35 years, embracing a very wide range of styles and genres over the years.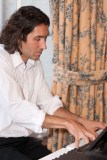 I have played professionally in many wedding ceremonies and breakfasts, restaurants, hotels, piano bars, pub piano rooms and even private houses, and I am confident that you will love the kind of music I can provide, as will your guests or clients. Whether you require an hour, 4 hours, or even longer, I have a repertoire extensive enough to keep the music flowing constantly and fluidly, subtly morphing from one style to another. Genres such as jazz, blues, gospel, popular, shows, and contemporary, will all be covered. Although I can read music, I prefer to play everything without it, by ear, using memory and improvisation. If you are interested in knowing more about my background, please click here.
If you are booking a wedding or organising a corporate event, please visit my wedding pianist website.
Please click on the headphone link to hear some recordings: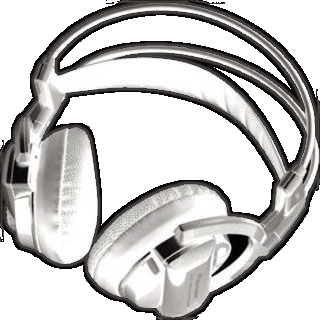 The list shown below is a not exhaustive selection of some of the many pieces I play as instrumentals, though I constantly add to this list and there are many pieces that I have not listed here. The titles marked as 'optional vocal' are ones I can sing if this is required and appropriate for the environment (though I would probably need to set up a mic and PA so this would need to be specified when booking). The list can also be downloaded in PDF (acrobat) format by clicking here.
Just SOME of the piano instrumentals I play...
Various:
Ain't no sunshine (Bill Withers)
Always a woman (Billy Joel)
Always on my mind (Elvis Presley)
Angels (Robbie Williams) Annie's song (John Denver)
Another day in paradise (Phil Collins) (optional vocal)
Any dream will do (Andrew Lloyd Webber)
Arms of an angel (Sarah McLachlan)
Blowin' in the wind (Bob Dylan) (optional vocal)
Bohemium Rhapsody (Queen)
Bridge over troubled water (Simon and Garfunkel) (optional vocal)
Candle in the wind (Elton John)
Can't take my eyes off you (Andy Williams)
Careless whisper (George Michael)
Closest thing to crazy (Katie Mellua)
Crazy (Patsy Cline)
Crazy for you (Madonna)
Crazy little thing (Queen)
Crying (Roy Orbison)
Dancing queen (Abba)
Danny boy (Londonderry Air)
Desperado (Eagles)
Don't cry for me Argentina (Andrew Lloyd Webber/Tim Rice)
Drive (The Cars)
The drugs dont work (The Verve)
Everybody's got to learn sometimes (The Corgis)
Everybody's talking (Nilsson) (optional vocal)
Everything I do I do it for you (Bryan Adams)
Fiddlers Green (John Connolly) (optional vocal)
Fields of Athenry (optional vocal)
Fields of gold (Sting/Eva Cassidy)
Fix you (Coldplay) (optional vocal)
Fur Elise (Beethoven)
Greatest love of all (Gearge Benson/Whitney)
Groovy kind of love (Phil Collins) (optional vocal)
Hallelujah (Leonard Cohen)
Halo (Beyonce)
Happy day (Gospel)
He ain't heavy, hes my brother (The Hollies) (optional vocal)
Hello (Lionel Richie)
Here comes the sun (The Beatles) (optional vocal)
Hey Jude (The Beatles) (optional vocal)
Hotel California (The Eagles) (optional vocal)
I can see clearly now (Johnny Nash) (optional vocal)
I can't help falling in love with you (Elvis)
I don't wanna talk about it (Rod Stewart) (optional vocal)
I dreamed a dream (Schonberg/Boublil)
I had a dream (Abba)
If I fell (The Beatles)
I know him so well (Elaine Paige/Barbara Dickson)
Imagine (John Lennon) (optional vocal)
I miss you (Blink 182)
Jealous guy (John Lennon/Roxy Music)
Just the way you are (Billy Joel) (optional vocal)
Killing me softly (Aretha Franklin)
Knocking on Heaven's door (Eric Clapton)
Lady in red (Chris De Burgh)
Lazing on a sunny afternoon (Kinks) (optional vocal)
Lean on me (Bill Withers) (optional vocal)
Let it be (The Beatles) (optional vocal)
Long and winding road (The Beatles) (optional vocal)
Love changes everything (Michael Ball)
Love is all around (The Troggs/Wet wet wet) (optional vocal)
Love letters straight from the heart (Ketty Lester)
Love Story (theme from the film)
Mad world (Gary Jules version)(optional vocal)
Make you feel my love (Adele) (optional vocal)
Man who can't be moved (The Script)(optional vocal)
Memories (Andrew Lloyd Webber)
Michelle (The Beatles)
Moon river
More than words (Extreme)
Music of the night (A. Lloyd Webber) (optional vocal)
The needle and the damage done (Neil Young) (optional vocal)
New York state of mind (Billy Joel)
No true love ways (Buddy Holly)
Nowhere man (The Beatles) (optional vocal)
Parisian Walkways (Gary Moore)
Perfect day (Lou Reed) (optional vocal)
Piano man (Billy Joel) (optional vocal)
Promise me (Beverley Craven)
Raining in my heart (Buddy Holly)
Rainy days and Mondays (The Carpenters)
River flows in you (Yiruma)
Rocket man (Elton John) (optional vocal)
Run (Snow Patrol/Leona Lewis) (optional vocal)
Saving all my love for you (Whitney Houston)
Say a little prayer (Dion Warrick)
Sittin' on the dock of a bay (Otis Redding) (optional vocal)
Someone like you (Adele) (optional vocal)
Something in the way (the Beatles) (optional vocal)
Somewhere over the rainbow (Eva Cassidy version)
Space Oddity (David Bowie) (optional vocal)
Stand by me (Ben E. King) (optional vocal)
Streets of London (Ralph McTell) (optional vocal)
Summertime (Ella Fitzgerald)
Sweet child of mine (Guns & Roses) (optional vocal)
Tears in Heaven (Eric Clapton) (optional vocal)
Titanic theme (Mariah Carey)
Thank you for the music (Abba)
The man who can't be moved (The Script)
Things we said today (The Beatles) (optional vocal)
Trouble (Coldplay) (optional vocal)
True colours (Cyndi Lauper) (optional vocal)
Weather with you (Crowded House) (optional vocal)
We are the champions (Queen)
When I need you (Leo Sayer)
While my guitar gently weeps (G. Harrison) (optional vocal)
Wind beneath my wings (Bette Midler)
With a little help from my friends (The Beatles) (optional vocal)
With or without you (U2) (optional vocal)
Without you (Nilsson)
Wonderful tonight (Eric Clapton) (optional vocal)
Wonderwall (Oasis) (optional vocal)
Yesterday (The Beatles) (optional vocal)
You do something to me (Paul Weller) (optional vocal)
You got the love (Candy Staton/Florence & machines)
You raise me up (optional vocal)
You needed me (Cilla Black)


Jazz standards:
Summertime (Ella Fitzgerald) (optional vocal)
Autumn leaves
Blue moon
Girl from ipanema
Work song
Dream a little dream
Fly me to the moon (Frank Sinatra)
Lets face the music & dance
Take 5 (Dave Brubeck)
Wonderful world (Louis Armstrong)
It had to be you (Frank Sinatra)
Moondance (Van Morrison) (optional vocal)